Get your vaccinations up to date
Flu shots, childhood immunizations and more to keep your family healthy
Flu shots available
It's time to for everyone 6 months and older to get their annual vaccination against the influenza (flu) virus. Once you've received the flu shot, it takes 2 weeks for the body to develop enough protection against the flu virus. By getting your flu shot, you lower the risk of serious flu-related illness and hospital visits. 
COVID-19 primary series and booster shots available
Getting a flu vaccine is the best protection against flu, and getting a COVID-19 vaccine is the best protection against COVID-19. Each vaccine builds the body's defense against the different viruses. We strongly encourage everyone who can to vaccinated against both viruses!
Learn more about COVID-19 vaccines
Vaccines for children
Vaccines are essential for protecting children against serious but preventable diseases such as measles, mumps, rubella and whooping cough. Some diseases, like smallpox, have been completely stamped out thanks to vaccines.
There are many reasons to make sure your child is current on their vaccinations:
Vaccinations can save your child's life
Vaccinations are safe and effective
Vaccines help protect those who cannot get vaccinated
Vaccinations reduce costs and time away from school and work
Vaccines protect future generations
Please call the clinic to make an appointment for your family. Together, we can help protect children from serious but preventable diseases.
Recommended vaccines
Keeping recommended vaccinations up-to-date helps keep children and adults healthy by helping the body fight against diseases. Neighborcare Health offers many of the vaccinations you and your family need at our neighborhood medical clinics and school-based health centers throughout Seattle and on Vashon, including:
Flu shot
COVID-19
Hepatitis A
Chicken pox
Pneumonia
Shingles
Tdap or DTaP (Diphtheria, tetanus and pertussis aka whooping cough) 
And more
Well-child visits
Many children receive their vaccinations during their regular wellness visit. Well-child checks are routine visits to the doctor when your child is not sick. In addition to vaccinations, we recommend regular well-child visits with a medical provider to:
Monitor how your child is growing
Catch any health issues before they become a problem
Ensure your child's good health
Ask questions or talk about concerns of behavior, emotional health, and more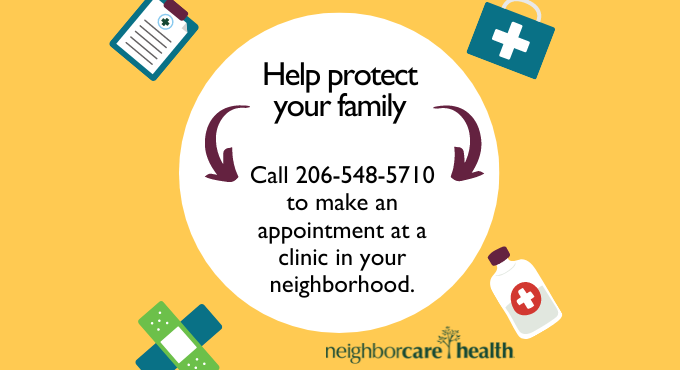 We're in Your Neighborhood
With nearly 30 neighborhood medical, dental and school-based clinics in Seattle and on Vashon, we're here for you.