COVID-19 Update
Masks still required for staff, patients and visitors at Neighborcare.
Your health is important to us
To translate this information, select language at the top of the page.
Para traducir esta información, seleccione el idioma en la parte superior de la página.
Si aad u tarjunto macluumaadkan, ku xulo luqadda kore ee bogga.
Để dịch thông tin này, chọn ngôn ngữ ở đầu trang.
________________________________
Update: January 19, 2023
Masks are still required at Neighborcare for patients and visitors 5+ years old. (See the masking guidance in King County.) 
Our experienced providers can address many medical needs by phone. Please note, you must be in Washington state at the time of your phone appointment. Our doors are open for you to be seen in person. We have put extra safety measures in place. 
What to do if you have COVID-19 symptoms
If you have COVID-19, cold or flu symptoms--such as cough, body aches, chills, sore throat, fever, new loss of taste or smell, congestion or runny nose, nausea or vomiting, diarrhea, or shortness of breath-- OR you are concerned you may have been exposed to COVID-19, please call your clinic first. Find a clinic. Please do not walk in to a clinic. 
If you are having a life-threatening emergency, call 9-1-1.
How we stay safe at our clinics
What you can expect from us:
COVID screening for staff and patients
Following the state vaccine mandate
Requiring staff to wear masks and other protective equipment
Increased cleaning between patients and throughout the day
What we ask of patients and visitors:
Wear a face covering if age 5 or older
Stay home if you are sick and call to reschedule
Wait 10 days after testing positive for COVID-19 to have an in-person appointment
Schedule an appointment
If you need care for any reason, call a clinic first (find a clinic). Phone and in-person appointments are available. You must be in Washington state at the time of a phone appointment (learn more). We have put extra safety measures in place in our clinics. Interpretation services are available by phone and in person. New patients are welcome.
If you are having a medical emergency, call 9-1-1.
Dental care
If you need urgent or emergency dental care, call a dental clinic BEFORE coming to a clinic. Please do not walk into a clinic. You do not need to be a current Neighborcare Health patient. Read about our reopening of routine and preventive dental care.
Why can't patients be out of state for an appointment?
Because of the requirements of their licenses, Neighborcare's medical, dental and behavioral health providers cannot provide care to patients who are outside of Washington state at the time of their appointment--even for phone or video visits.
You can communicate with your provider through

 

MyChart

 

while out of state.
When scheduling your appointment for a phone or video visit, staff will ask you if you will be in Washington state at the time of your appointment.
When you check in for your phone or video visit, a staff member will confirm that you are in the state. If you are out of state, your appointment will be rescheduled for another time when you will be in-state.
At the start of your appointment, your provider will confirm if you are in-state. If you are not, the provider will offer you other resources and cancel your appointment.
Community Resources
The City of Seattle and United Way of King County list resources for info on food, rent, utility assistance, worker support and more.
Up-to-date information on COVID-19
Community Safety Reminders
COVID-19 is still spreading in our community. Here's what you can do to protect yourself, your family and our community:
Consider wearing a mask in public indoor spaces, especially if you're at high risk for getting seriously ill from COVID-19. Read King County's mask guidance  Everyone 5 years and older must where a mask when at a Neighborcare Health site or clinic. 
Stay up to date on COVD Vaccinations. Get a COVID vaccine or booster. Learn more about COVID vaccines.  
Get tested

 

if you have symptoms or if you have been in close contact with someone who's been diagnosed with COVID.  
Wash your hands frequently or use alcohol hand sanitizer
If you are sick, stay home and separate yourself from other members of your household. If you cannot, King County can help you isolate or quarantine.
Read what to do if you test positive for COVID-19 for the Washington State Department of Health.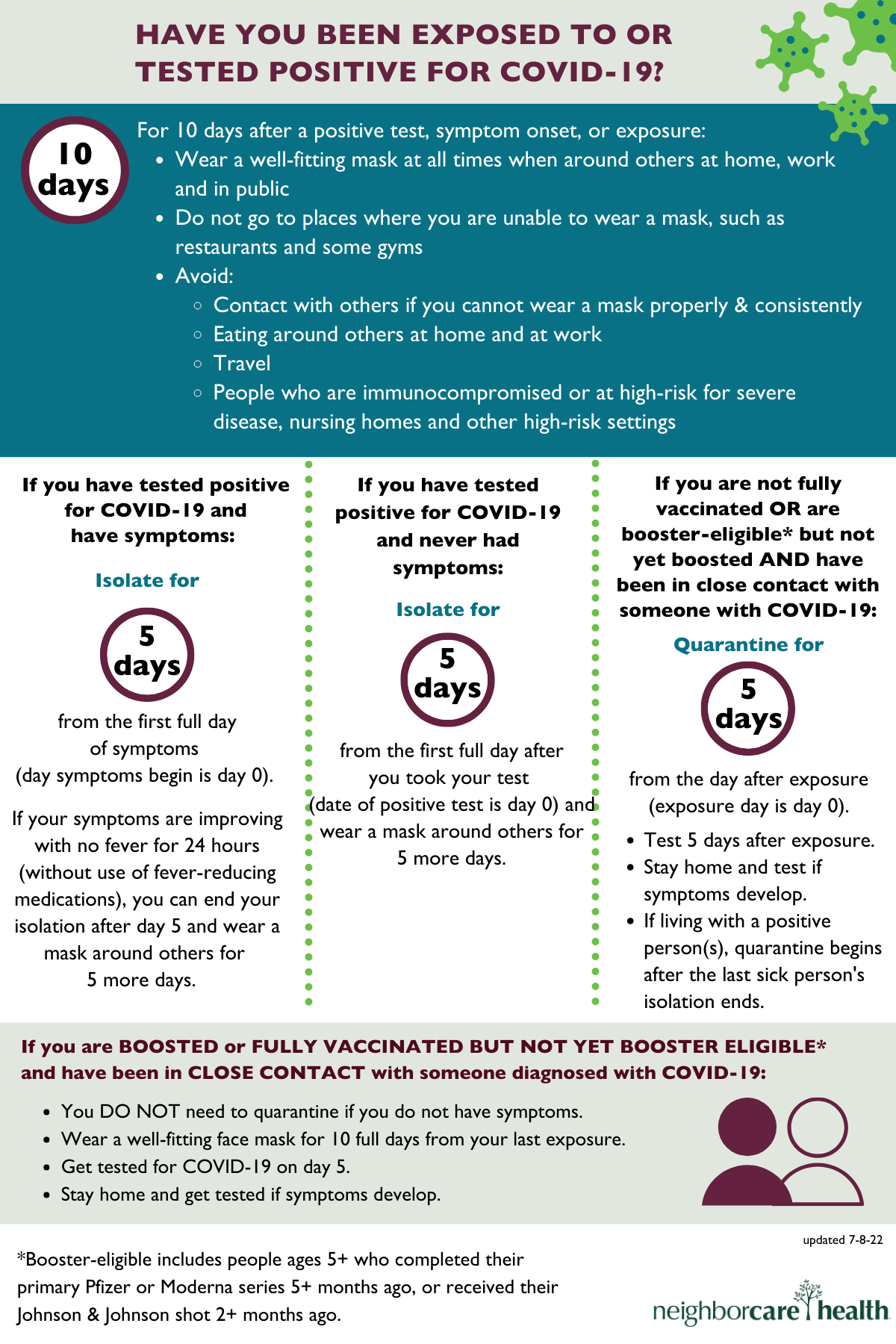 We're in Your Neighborhood
With nearly 30 neighborhood medical, dental and school-based clinics in Seattle and on Vashon, we're here for you.