Feast at the Market
Support Neighborcare Health each fall and dine at 20+ of the best restaurants
It's time to Feast!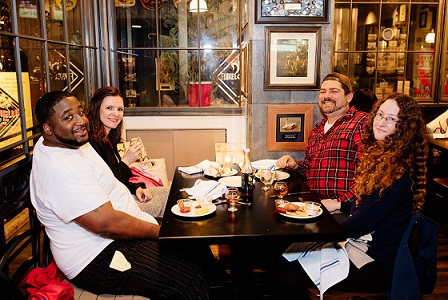 Thank you to our corporate sponsors!
Feast at the Market
A one-of-a-kind progressive dinner through the Pike Place Market neighborhood offers a self-guided tour of tastes at more than 20 participating restaurants.
Join us on October 1st for your chance to dine around the Market and support Neighborcare Health at Pike Place Market. See below for more details including parking information and directions. 
Online registration is now closed. There are a few tickets available at the door that will be sold on a first-come-first-served basis (credit card purchases or exact change accepted). Thank you for your support!
Guests will be introduced to irresistible flavors cooked up by award winning chefs at restaurants such as Matt's in the Market, Red Cedar & Sage, Radiator Whiskey, The Pike Brewing Company and more.
Thank you to our Feasters and sponsors for supporting Neighborcare Health at Pike Place Market. With your help in 2018, we raised $45,000 to support patients and programs!

Schedule
5:30 - 6:30pm
Check-in at Neighborcare Health at Pike Place Market. Guests are invited to take a tour of the clinic, enjoy complementary wine and hors d'oeuvres, and receive a booklet of tickets (one per restaurant).
6 - 9pm
Set your own pace, dining at the restaurants of your choice, savoring each in the order you choose. You'll be seated and served a specially prepared dish just for Feast guests!
8:30 - 10pm
You are invited to close the evening with a gathering to compare your favorite flavors of the evening and enjoy sweet treats served at the Pike Place Market Atrium Kitchen.
Neighborcare Health at Pike Place Market
Feast at the Market is an annual event supporting Neighborcare Health's Pike Market Medical Clinic, the leading provider of comprehensive primary health care to low-income and uninsured people in downtown Seattle. Through the primary care clinic, REACH, and Housing Health Outreach programs, we provide more than 30,000 medical and mental health care visits each year to over 4,600 patients. Annually 13% of patients are uninsured and 34% are or were recently experiencing homeless.