Grow Your Career
Single parent and clinic administrator reaches for her career goals
Tamara Bass, a single mother of two, began her health care career as a medical assistant. Now, she has a master's in business administration (MBA) and is the clinic administrator at the Columbia City medical clinic.
Tamara joined Neighborcare Health in 2019 as the medical assistant float pool supervisor. Within two years, Tamara developed a new role for herself, earned an MBA in Healthcare Management while working at her job and achieved a major career milestone. These achievements are thanks in part to the support and encouragement she received from leaders at Neighborcare.
"What makes Neighborcare different [from other health care organizations] is the opportunity for growth," Tamara said. "When I first started at Neighborcare Health in 2019, I quickly saw how the organization and leaders invested in staff and promoted internally."
When the COVID-19 vaccine was announced in November 2020, Tamara identified the need to quickly distribute the vaccine in our community and created the role of medical assistant program manager. Tamara played an integral role in delivering the COVID-19 vaccine to our staff and patients.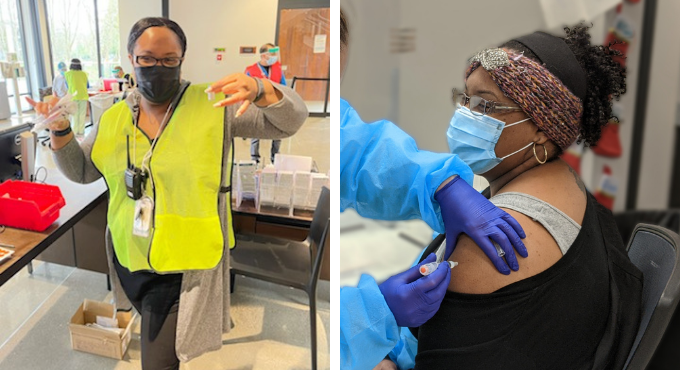 Left: Tamara leading the team at a patient vaccination event. Right: Tamara received her first dose of the Moderna vaccine at a community health worker vaccine event in late 2020. 
"As an African American female health worker, it was an honor to be on the frontlines of delivering the vaccine to our community," Tamara shared. "I was glad that I was able to immediately jump in to help the organization. It was a natural move for me to support as I was already working closely with the Washington State Department of Health for the Vaccines for Children (VFC) program. It only made sense that I continue that relationship to oversee the process for shipping, handling and managing the vaccine at our clinics."
In September 2021, Tamara took the next step in her career and became the clinic administrator at Neighborcare's Columbia City medical clinic. When the position became available, a Neighborcare leader remembered Tamara's career goals and recommended she apply for the position.
"This is an organization who believes in their mission and core values," Tamara said. "They care about their staff and are always here to support them and help them grow."
Learn more about Tamara and her journey at Neighborcare.
Why did you choose to work at Neighborcare?
"Neighborcare is an organization where I feel like I fit in. It is a place where I feel that my passion for helping others and optimizing processes is felt and valued. Most importantly, Neighborcare Health's values mirror my own personal morals of making sure every patient knows and feels they deserve the same quality of health care and resources as others do."
How is working at Neighborcare different from other health care organizations?
"Neighborcare is different because the staff and care teams relate to the patients and communities they serve. Neighborcare knows that representation matters, and the staff at Neighborcare represents the diversity of our patients. And our patients identify with their care givers because they look like them.
From a career perspective, had I been working anywhere else, there would never have been room nor a place for me to create a position that not only meets the needs of the organization, but also reflects my personal added value and contributions. To me, this means the difference between Neighborcare being a stepping ladder to another organization and being a long-term commitment. I can see myself staying at an organization that sees my potential and helps me to grow within it."
When the COVID pandemic hit and the vaccine was developed, what was it like to take on the huge responsibility of leading the Medical Assistant team in delivering the COVID vaccine?
"It was a huge honor to take on the large responsibility of getting our staff and community health workers vaccinated, and then transitioning to getting the vaccine for our patients.
Taking on this work also gave me the opportunity to work closely with many members of Neighborcare's senior leadership team, including the interim CEO and COO, and dive deeper into operations at the organization."
You recently became the Clinic Administrator at the Columbia City medical clinic. Why did you decide to make this transition?
"After weeks of debating and weighing the pros and cons, I decided to accept the role of clinic administrator role because it was always a personal career goal to get to a chief stage within an organization. I recently received my MBA in health care management, and the next step for me was to get more operational experience. When the clinic administrator opportunity became available, a leader who simply listened to me remembered my goals and recommended I apply for the position."
What advice would you give to someone who is thinking about working at Neighborcare?
"Always remember the road to the end destination will have many detours, bumps and road blocks, but here at Neighborcare we have staff and leaders who are here to help you through that journey and help you find and apply your true potential. If you don't believe me, simply look at my two-year journey with Neighborcare."
Join our mission!
Are you interested in community health? Do you share Neighborcare's belief that everyone deserves access to quality health care, regardless of income, insurance or immigration status? Join our team!
At Neighborcare, we value social justice, cultural sensitivity, community and excellence. Our work is guided by how we treat our patients and each other, and shaped by our service commitments: respect, caring, trusting relationships and working together. Learn more (link to why work for us)
About Neighborcare Health
Neighborcare Health is the largest provider of primary medical, dental and behavioral health care services in Seattle neighborhoods where health disparities are greatest. Our care teams, who speak over 55 languages and dialects, are as diverse as our patients.
Careers
If you value social justice, cultural sensitivity, community and excellence — join our team!
We're in Your Neighborhood
With nearly 30 neighborhood medical, dental and school-based clinics in Seattle and on Vashon, we're here for you.