The Family Food Program at Rising Star Elementary
Addressing food insecurity in our community
By Claire Dunn, school-based health center coordinator at Rising Star Elementary
At Rising Star Elementary in South Beacon Hill, where 80% of families are considered "low income" by federal guidelines, the Neighborcare Health school-based health center has embarked on a new project to address food insecurity in our school community: The Family Food Program, generously funded by Share Our Strength and No Kid Hungry.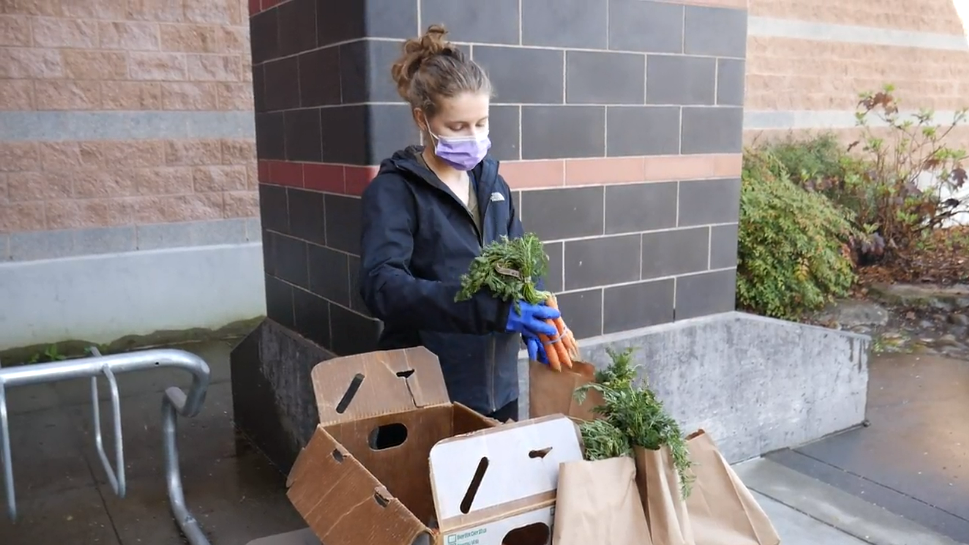 Claire Dunn packages fresh produce to distribute to families at school pick up.
What is food insecurity?
The USDA defines food insecurity as "the state of being without reliable access to a sufficient quantity of affordable, nutritious food." Food insecurity is a product of systemic inequities and is linked to poverty and poor health outcomes, including physical and mental health. Some facts about food insecurity:
Children struggling with food insecurity may be at greater risk

 for stunted development, anemia and asthma, oral health problems, anxiety and depression, and behavioral problems. 


Low-income families also have a higher risk of not having affordable housing, chronic health conditions or lack of access to health care.
Improving health outcomes by addressing food insecurity
Our Neighborcare Health school-based health centers are in a unique position to address food insecurity. Through our close relationships with patients and families, and as trusted partners in their health, we can create programs in partnership with them to create meaningful access to health. 
This is how the Family Food Program was created at Rising Star Elementary. We combined community feedback and research-backed methodology to create a program that fits the community and provides meaningful aid, such as: 
Assisting eligible families in signing up for federal aid programs

 by connecting parents to our wonderful Neighborcare Health eligibility specialist. Federal aid can add hundreds of dollars to their monthly budgets through SNAP and other benefits.
Working with local organizations like 

Plant Based Food Share

 and 

United Way of King County

, and with Beacon Hill restaurant 

Musang

, to 

deliver fresh produce boxes and healthy meals 

straight to families' doorsteps. The produce boxes will continue to be delivered to families even during the summer.
Performing pediatric nutrition assessment to create 

individualized nutrition prescriptions 

based on a child's specific needs.



Mailing 

grocery gift cards

 to participating families for a store of their choice, which they can use to buy the items they decide will best serve their families' nutritional needs. Healthy, inexpensive, 

easy-to-prepare recipes

 are also included with the gift cards. Families will continue to receive gift cards over summer break.
Hosting participant-driven, culturally tailored 

nutrition education and cooking classes

 to build community and create a shared nutritional knowledge pool within our school community.
Addressing the students' expressed desire for more fresh food at school through our 

in-clinic fresh produce pantry, 

which is filled with locally grown fruit and vegetable donations from 

Farmstand Local Foods

. 

 
Importantly, we proactively seek feedback from participating families, so they have a spot at the table and can change the program as needed. We don't expect to get everything right the first time, but we're excited to work alongside them to make sure this program is meeting people's needs.

Fresh organic produce is available for students to snack on throughout the day

A true community partnership
The Family Food Program is a result of seeking and implementing community feedback, incredible partner investment, and advocacy to make sure the aid we provide is as helpful and sensitive to the school community as possible. 
To bring this full circle, the Family Food Program improves access to our Neighborcare Health services. In the past month alone, we have increased our patient enrollment at the Rising Star school-based clinic by 30%, and we are not even halfway through our enrollment process! It is another way to build trust with families and show them that we are here for them, and to help them access care for their children with our nurse practitioner and dental team. We look forward to continuing the Family Food Program into the 2022-2023 school year, and though our current grant ends in December, we hope to sustain the program into the future.
To me, this is what comprehensive, holistic aid looks like. 
*** 
Thank you to Claire Dunn for taking the time to share how her team at Rising Star Elementary is helping their community in such direct and meaningful ways. Learn more about our school-based health centers.